Year 1 and 2 Great Fire of London History Day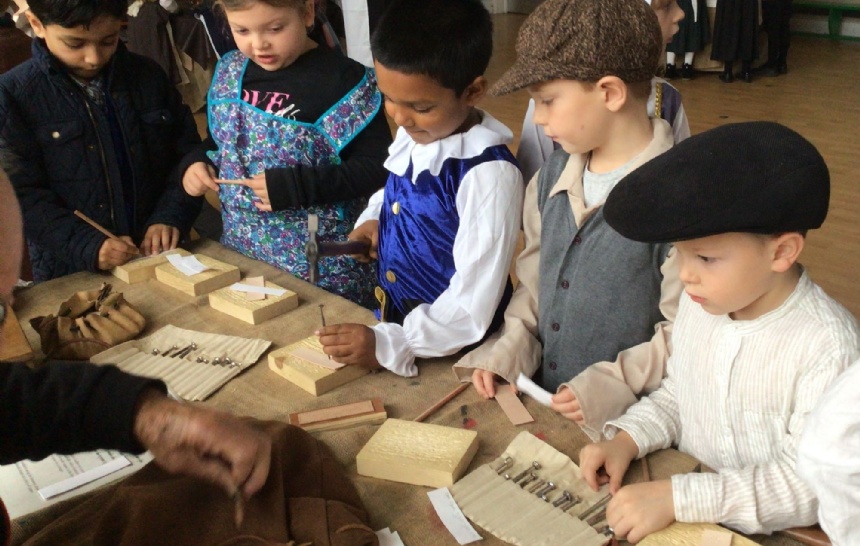 Last week Year 1 and 2 went back in time to find out all about life in London in 1666.
On Friday 11th November Year 1 and 2 enjoyed a fantastic day learning all about The Great Fire of London. In class, we had been learning lots about London in the present and past and about the fire, so we invited 'Off the Page' to visit and help bring our learning to life.
We all arrived dressed in clothes similar to those people would have worn in 1666. The day began in the school hall which had been transformed into a London market. There were lots of market sellers for us to visit and different jobs to do such as making bread, making candles, writing letters, helping people who were unwell get better and sewing initials on handkerchiefs. We had a great time exploring and learning about the different jobs. Throughout the morning we helped with other jobs too like rat catching and helping to pull down the houses that were starting to burn.
In the afternoon we had the opportunity to explore some artefact boxes. We had to find clues to help us figure out who the box belonged too. We were great historians and detectives and used lots of what we had learnt to match the box with the correct person from the market.
We all had a fantastic day. You can read below to find out what some of us thought about the day and click here to see some photographs.
Thank you again to our wonderful helpers who helped make the day possible.
Florence – I liked it when we go to do all the different fun activities.
Emma – I liked dressing up.
Zoe – I liked making the bread.
Jake – I liked using the fire hooks to pull down the buildings.
Esme – It was very, very fun and I was so excited.
Saphia – I learnt how to make ink then we wrote with a feather on some paper.