Year 3/4 Egyptian Adventure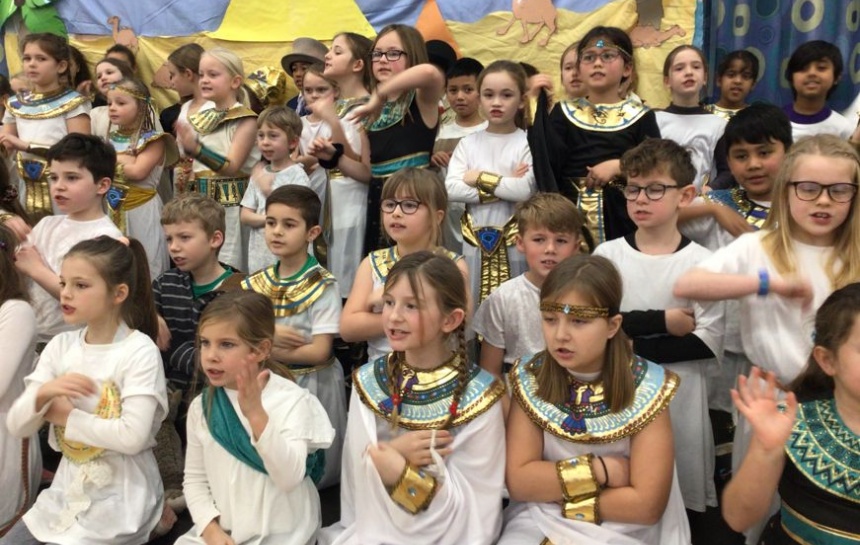 Year 3/4 keep their audiences 'entranced' with their Egyptian Drama
Year 3/4 have performed their 'Egyptian Adventure' this week highlighting not only their acting and singing skills, but also the knowledge they have gained through their topic work.
Read what some of the children have said about the experience:
I enjoyed the performance, it was fun. At first, I was a bit nervous because to me it was a big deal to perform in front of lots of parents including my mum. I thought I could mess up one of my lines or even both. After our part, I was relieved and also tired because it was 7:15 but I was relieved because I messed up a bit, but it didn't make a difference. After I learnt that it's OK to mess up and I don't have stage fright.
By Sienna
I really enjoyed the performance because there were lots of fun songs to learn and everyone took part. At the start I was a little worried that I'd get my lines wrong but once I had said them I was really proud of myself. In the end I learnt that there's no need to worry because nothing is going to happen if I get things wrong!
By Jack
I enjoyed the play but I'm sad it's over. I worked really hard on the play. I learnt that it's ok to be scared when it's your first time doing a performance. I was nervous because the hall was full of adults. After the performance I was triumphant that everyone was clapping.
By Lila-Rose
I loved the Egyptian play. I felt a bit nervous at first about going on stage but afterwards I felt excited. After the play had finished, I felt really sad because it was all over, and I wanted to do it again. I experienced that being on stage is not that terrifying!
By Johaan
On Wednesday afternoon and Thursday evening, Year 3 and 4 performed their Egyptian Adventure in front of their parents. It was EPIC! Before the performance I felt anxious and nervous but during it and after it I felt proud of myself but also sad that it was over. I also learnt that I would be good in a drama club. I would totally LOVE to do another performance.
By Rumi
I loved the play. I loved it so much that I want to do it all over again. Before the play, I was so nervous. After the play I was sad because it was over. I have gained confidence performing on the stage.
By Fred
At school we performed an Egyptian play. When I first walked on the huge, black stage I had stage fright but as soon as the play got going, I felt amazing. My brother said, ''Well done,'' and I felt very proud. I learnt that I am good at acting. The play was epic!
By Henry