Swavesey Footballers in World Cup Style Tournament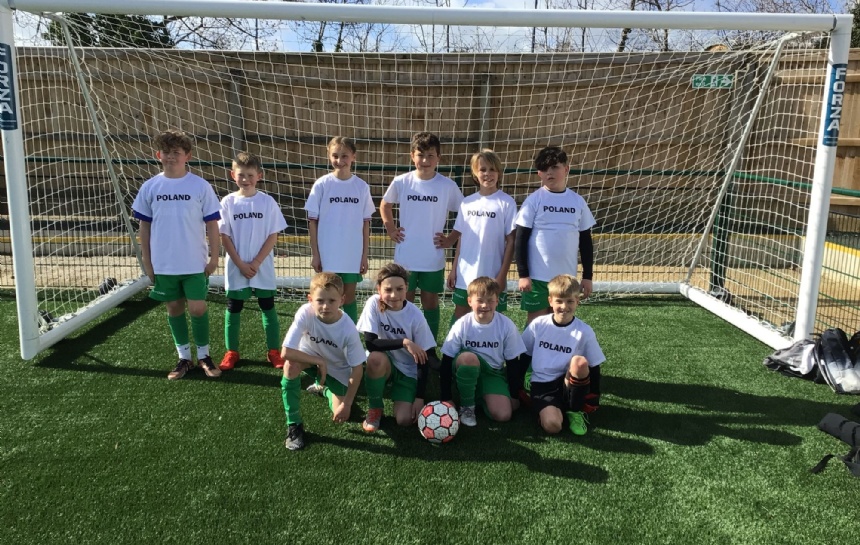 Swavesey entered a team of ten to a football tournament at St Ives Town's Westwood Road.
We started the day off by leaving at ten past nine in the morning; we got on the coach and were on our way. Each school was allocated a World Cup team – we were Poland and wore white shirts.
Our first game was against Ghana and we drew 0-0 but had an amazing chance which was saved off the goal line. Our first match was an amazing set up that started with Harry B in goal who saved some smashing shots, Ted and Ellis in defence making some outstanding blocks and tackles.In midfield there was Emmie and Emily who were tackling well and stopping there shots. Then upfront making runs forward in attempt to score a goal. Their keeper made some good saves stopping Thomas and Billy from scoring. In between the games when our team weren't playing we would practice some shooting and attacking.
In our second match we went on to win 2-0 against Croatia, Thomas and Ellis scored amazing goals: Ellis scored from shooting a while away from the goal and Thomas took the ball round the goalkeeper and scored. When Ellis and Thomas scored everyone went wild on our team.
In our third and last group match we played the best team in our group who were unbeaten just like us. Surprisingly we went to win 2-0 just like the match before, with goals from Seth and Emily. This meant that we would top our group and play in the YDP Cup instead of the YDP Plate in the quarter finals.
In the quarter- final we played Wales but sadly got knocked out, even though we lost the quarter-final, everyone had a fantastic time. We stayed longer than usual because our bus got stuck in the car park from all the cars blocking the way out, In the end we stayed till quarter to two until going home. We finally got back at 2:25 and had an amazing day.
In conclusion, the day was memorable and definitely a day to never forget.
Thomas and Emmie.