Swavesey Primary and Linton Heights take the trophies again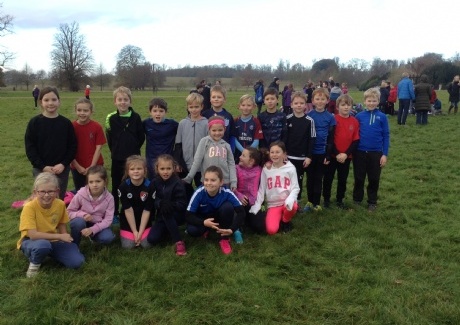 On Tuesday 28th November, 80 children from Year 3-6 competed in the 'LARGE' School Sports Partnership Cross Country Competition, at Wimpole Hall Estate, with smaller schools competing in March. This allowed extra schools to enter this year making a finals competition unnecessary.
Running conditions were a little muddy underfoot but the course held out for the 800 runners competing in this annual event, over a 1600m long course.
The atmosphere was amazing with all runners being cheered at the start and finish by fellow pupils, staff and parents that had come along to spectate.
The top three placed runners in each school team scored for their team but individuals could also compete for one of the top 3 medal winning positions in the race!
In Year 5/6 team competition Swavesey won the trophy gaining the title of South Cambs Champions. 1st and 3rd place in both the boys and girls Year 5 team competition helped them secure success.
The individual medal winning runners in Year 5 were: BOYS 1st Ivan H and 3rd George J
: GIRLS 1st Evie F and Sheila B
In the Year 3 / 4 team competition again the top 3 placed finishers for each school counted. This year Swavesey came third place with amazing runs with some Top 3 individual medal winners:
Year 3 BOYS: 2nd Finley Year 3 GIRLS: 3rd Imogen
Year 4 BOYS: 1st Thomas 2nd George 3rd Edward
Congratulations to Year 6 , Sasha, who received an individual award for showing School Games Values of DETERMINATION throughout the competition and finishing in 9th Place overall.