Visitors from the rainforest!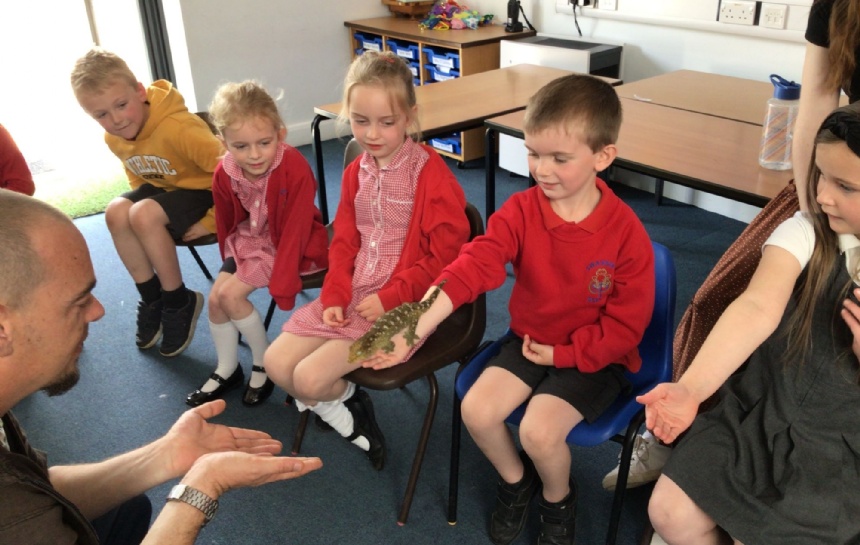 Year 1 and 2 had a visit from some exciting rainforest animals!
Last Friday, to support our rainforest topic learning, Year 1 and 2 had a visit from Zoolab. We were visited by Chris and his collection of fascinating rainforest animals. We had a fantastic time learning about the animals and we even got a chance to hold and touch some of them. We all had to be responsible and sensible to keep the animals safe and some of us had to be very brave (particularly when we met Phantom the Tarantula!). We found out lots of new facts about the animals as well as hearing about Chris' adventures in the rainforests around the world. Click here to take a look at some photos from the visit and read below to find out what some of us thought about the experience.
Peter – 'It was fun because I liked seeing Casper the corn snake. He has more bones than we do!'.
Oscar – 'It was great and fun and I really liked it. There was Casper the snake, then Phantom the tarantula, then Honey the gecko and Katie the rat. I like the seeing the animals and touching them. I learnt that even though the animals might look scary to us we might look even scarier to them!'.
Maylin – 'I really liked it because I got to hold a snake and I didn't know I would be able to hold a snake. I learnt that snakes shed their skin.'
Chloe – 'I thought it was excellent. I really loved Casper the corn snake because he felt really smooth. I learnt that Honey the gecko was the biggest kind of gecko. I also learnt that most tarantulas have venom but it is very weak venom. We didn't hold Phantom because he might flick hairs on us and make us very itchy.'