Jubilee Street Party Fun!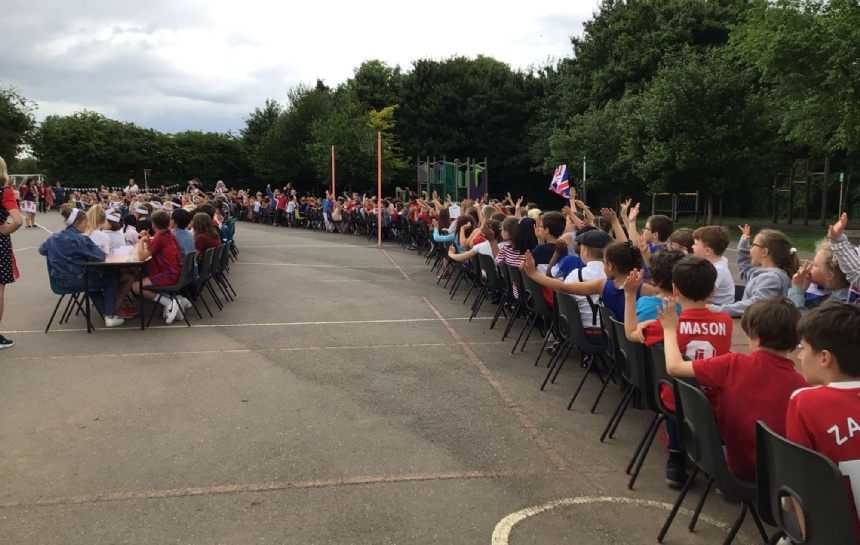 We started our Jubilee celebrations wit a whole school street party. It was wonderful to have everyone together for a special event for the first time in a long time - and fun was had by all!
On Monday 23rd May, Swavesey Primary School celebrated the Queen's Jubilee. In order to seat every child in the school, many chairs and tables were taken from inside the classrooms and carefully arranged into rows on the playground.
We had a costume parade, played some games and learnt about the Platinum Jubilee.
After that, we had some snacks(crisps and biscuits) and a drink each. Then, apart from pre-school, everyone went onto the field and we either got the choice to play some more games set by adults(flip the coin or royal stations) or we could play our own games with friends. Once we went back on the playground, it was the end of the day so we packed up, got our bags and went home - it flashed by so quickly!
On the way out, we had a bake sale to raise money for the school. It was a great day and the best part was that we got to celebrate with everyone together for the first time in ages!
By Skylark and Lottie (Year 6)
Here is what some of our Year3/4s thought of our afternoon:
"I loved our Jubilee street party! I especially enjoyed showing off my outfit during the costume parade." - Everlyn
"I enjoyed coming together as a school and having the chance to eat some tasty snacks." - Archie
"It was lovely to come together as a school to celebrate and play games - we haven't come together in a long time because of Covid so it was great to spend time together." - Ayzah
"I really enjoyed the costume parade! It was fun to see other people's outfits - there was a lot of red, white, and blue!" - Nicholas
"Having learnt about the importance of the Jubilee, it was exciting to be able to celebrate it. I especially enjoyed the games we played, which were all based around the Queen." - Alyn
Bonnie – It was really fun because we got to walk around the playground in a parade so that everyone could see our clothes.
Inés – It was quite fun because I liked playing heads and tails. I liked going on the field too because it was fun playing games all together.
Here is what some of our Year1/2s thought of our afternoon:
Oliver – I liked it because there was party games and they were fun. I liked the food and the drinks and being able to sit with all of my friends.
Louie – When we played the games it was really fun. My sister was at the front and she was nearly a winner!
Joseph – I liked the party rings and the drinks. I liked playing the games because it was very, very fun.
Click here to see some photos of our afternoon.