Year 3/4 visit Fen Drayton Lakes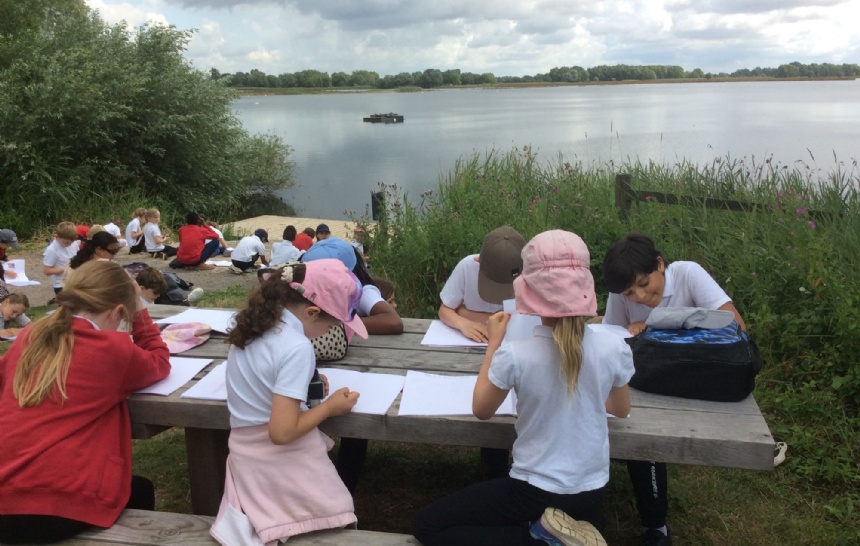 Year 3/4 had a wonderful time visiting Fen Drayton Lakes on Thursday 13th July as part of our local area study.
We enjoyed being outside identifying signs of life such as animal tracks, nests, eggs and droppings. We used bug identification sheets and magnifying glasses and searched the bug hotels; we saw ants scurrying, carrying eggs on their back.
We enjoyed sitting on tree stumps as chairs, sketching the beautiful environment and following maps to make sure that we didn't get lost! Even though we returned with very tired legs, we thoroughly enjoyed our trip out. We felt so lucky to have such a beautiful nature reserve on our doorstep.
'I enjoyed tweeting to the birds. They even tweeted back.' Daniel
'I loved being out at the lakes, learning so much about nature. I liked using my binoculars to spot birds that I hadn't seen before.' Rumi
'I enjoyed searching for bugs that I hadn't seen before in the outside environment. My group found a giant snail.' Dylan
'It was fun walking around the lake. Swans class spotted lots of swans who were bathing in the sun.' India
'I learnt that the lakes used to be a gravel works but now they are filled with water to attract wonderful wildlife.' Fred
'I really loved the bug hunting and learning about nature and our environment.' Sienna
'I would like to return with my mum and stepdad at the weekend.' Olly
We hope you enjoy looking at some of our photos of our day out - click here.