Netball Success for Swavesey Teams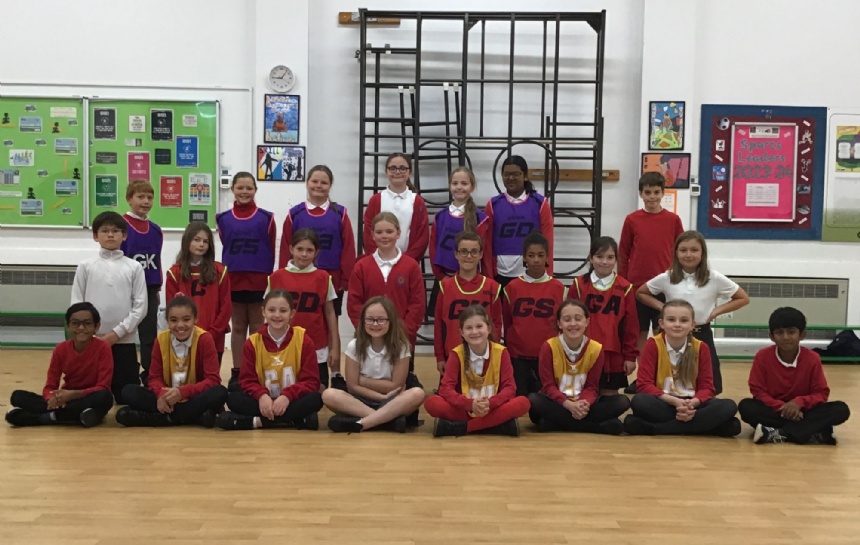 Three Swavesey netball teams competed in the local SCSSP tournament first round on Thursday 19th October and all had great success.
Due to the children's enthusiasm for netball, Mrs Turian was to field three teams for the tournament, each competing in one of the three tournament groups. Their practice paid off, as did their team spirit and resilience with each team coming first in their assigned group. Mrs Turian was so proud of them all and has said theywere incredibly responsible and played incredibly well. Thank you to Mrs Parsons who has been supporting netball club and also for her support along with Mrs Durant's during the tournament.
Results:
Swavesey A 1st place in Group 1
Swavesey B Joint first place (with Willingham A team) in Group 2
Swavesey C 1st place in Group 3
Please read the children's accounts below.
After school on Thursday 19th October, 3 netball teams from year 5/6 set off on their first netball tournament of the year. The A team were a group of pre-trained year 6s and so were half of the B team, but the other half of the B team and all of the C team were year 5s that were very new to netball.
The day started off with a nail-biting twist ; the forecast was due to rain and we were all worried it would be postponed. However, the rain held off and things were looking hopeful. But, as we started to arrive, we were drenched with freezing rain. Fortunately, they were all ready setting up, so Northstowe had no choice but to continue the tournament.
The tournament had begun and the A team sprung into action, winning with a stunning score of 7-0. In dramatic suspense, the A team were off for the next match - left only to cheer on the Swavesey C team's second match. Before we knew it, our second match had come around and we once again won with a score of 6-0. With only a minute's break, we immediately changed our positions and retreated back to the court. Surprisingly, this was our best match yet, with a jaw dropping score of 10-0 ....... we were on a roll!!!
We had a well deserved two match break as we prepared for our final match; we hydrated and had a snack . It had finally arrived ; the final match! By half time we were 1-1 ..... but as we approached the end we brought together all of our skills and scored the winning goal.
The next day, we were given the amazing news that all of our hard work paid off and we won the round!
Written by Annabel and Isla
On the evening of Thursday 19th October, the netballers went to Northstowe. The B team won 3 games and drew one against an A team. We jointly won with Willingham A team. Overall, I had a great time and it will be a long lasting memory. Thank you Mrs Turian
On the Thursday 19th October we were all on our tip toes discussing tactics and almost wetting ourselves with excitement. Our first netball match was so, so, so, so AMAZING 🥳 . My best moments were when we won our first match and me and Adrianna grabbed each other's shoulder and jumped up and down screaming🤩! And when I shot a goal it was 'kinda' the winning goal as it was 1 minute to go but then someone scored in the last 20 seconds! It was really hectic and civilised at the same time. It was really fun playing against other teams as I could play with different people with different skills. Scores for the teams were great. We went from match to match cheering each other on and changing bibs. It was AMAZING all in all ! 😍
By Agnes in C team