School Funding Campaign
Our Children Are Not Worth Less
The campaign for fair funding for Cambridgeshire schools is continuing. In February, Cambridgeshire joined with thirty one other local authorities representing 5,500 schools to send the Chancellor, Philip Hammond, an invoice for the difference in funding per pupil for children in our schools compared with Westminster.
That difference comes to a staggering
£135,070,713
for Cambridgeshire alone.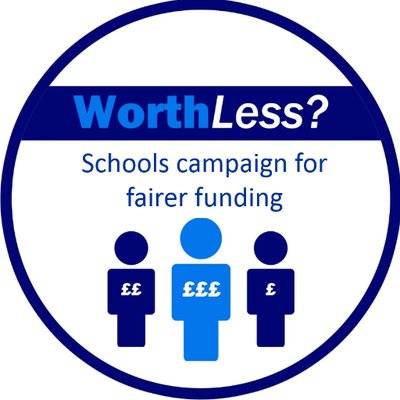 If you compare the average amount per pupil for Cambridgeshire children with the average for the median funded authority, Reading, the difference is £148 per child (and this is the average, so the difference between us and some other schools is up to £1,000 per child). If that doesn't sound like a lot, think of it this way - for Swavesey Primary School that adds up to £44,500 per year. With that, we could:
employ additional teaching assistants to work in every year group, or
employ a teacher to work full time across the school, or
invest in vital services such as counselling, family support and special educational needs advice – services that are being reduced or cut completely as local authority budgets are reduced.
The problem is that there is simply not enough money being put into the education system to enable the government to bring the worst funded authorities up to anything like the national average. Schools are facing big real-terms cuts to their budgets at a time when pupil numbers are increasing. The government has moved £1.3 billion pounds from one part of the education budget into schools, but this is not nearly enough to cover the estimated £2.8 billion schools need just to stand still. The government is still making a real-terms cut to the schools budget of £1.5 billion at a time when pupil numbers are increasing.
This is why Cambridgeshire and Swavesey Primary School has joined with the "Worth Less" campaign to fight for fairer funding. We do not accept that our children are "worth less" than children in other authorities.
We will keep you up to date with how the campaign develops and let you know what response we get from the Treasury. You can follow the Worth Less campaign on Twitter @WorthLessFF
BBC News Clip 30th January 2018. 'Heads warn of 'chronic' funding shortages'