Canary Cup Football Competition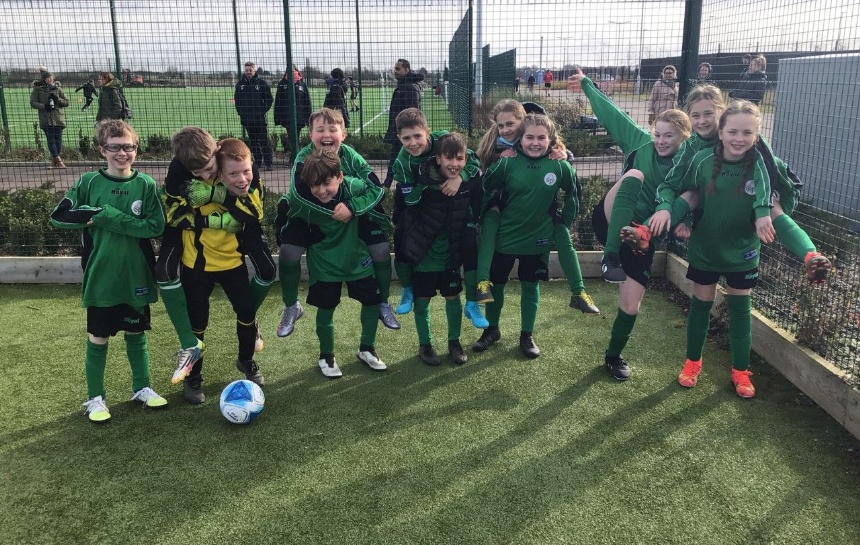 A team of our Yr6s performed superbly at the Canary Cup Football Tournament on Thursday 10th February 2022
Our year sixes took part in the Canary cup at Northstowe college on Thursday (10th Feb) and performed superbly – winning three games, drawing one and only losing one. They scored six goals in total and only conceded a solitary goal.
They embodied teamwork and resilience throughout and played fantastically well together. They were extremely unfortunate to miss out on the semi-finals (by just a single goal) and can take solace and pride in the fact that they beat the eventual winners 2-0 in the group stages.
Well done to all involved – you represented the school brilliantly and we are very proud of you all. Mr O'Neill
Football Tournament Report
By Sam and Will
11.2.22
The tournament
The tournament took place in Northstowe and in the group stages you played four games of 8 minutes each. The team who came first progressed to the semi-finals and so did the second best placed team. We unfortunately finished third out of five teams in our group.
The squad
Sam W, Dylan S, Reuben A, Will J, Joseph E, Jake O, Daniel P, Caitlin D, Courtney C, Ruby-Ann W, Chloe-Marie E.
The matches
In our first game we played exceptionally well against the Oakington B team. We won 2-0; Sam W scored both goals early with a Will J assist and Courtney C long throw.
In our second game we played the tournament winners St Laurence; who we thrashed 2-0 with another Sam W goal which went top corner and Will bagged another beautiful assist. Will also got an assist for the super sub's(Dylan) goal; who ran through their whole team before slotting into the net.
Unfortunately we played the runners up (Cambridge University school team). We put in all our energy, but sadly it just wasn't our day as we lost 1-0. But we played amazingly, but were just a bit unlucky.
Then we played a very tough opposition, Hardwick. Both teams played superbly as the score line reflects a close match…0-0. We nearly scored, but their defender did an amazing goal line clearance and a powerful challenge on Will J (it was a very good tackle!).
Now onto our friendly game. We also played Jake O's mum's school team, Waterbeach. It was a straightforward game as we won 2-0. There was an amazing team goal with a bit of Dylan magic to give himself an easy open goal. The other goal was created by quick feet and a tap in for Daniel P.
Summary
It was the best day and we would definitely go again, without a doubt! Well done Swavesey Primary football team!