Year 3 / 4 Girls Football Tournament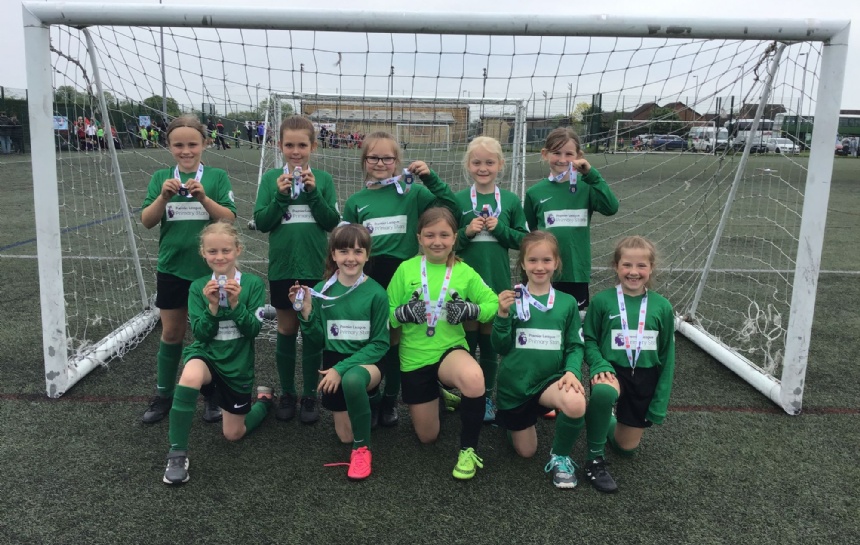 Last Friday, 10 Year 3 / 4 girls attended the first joint football tournament with the South Cambs and Huntingdon Partnerships.
120 girls took part during the morning , it was fantastic to see so many girls enjoying football.
Our first match ended in a 0-0 draw after 4 shots at target just didn't go in for us!!! We won the second game 2-0, a draw of 0-0 in third match, followed by a 3-0 win and finally a 2-1 win!
During the matches, Swavesey scored a stunning goal from the half -way line, one from a penalty , and some stunning goal line shots that were very exciting!
At the end of our five matches, we were told we were through to the FINAL! All of the girls were very excited and as the team representing South Cambs against a Hunts team, we were already really proud of ourselves.
The 8-minute FINAL match went so fast, with lots of attempts at goal on both sides. Sadly, we lost to Bushmead School, 2-0 but we were RUNNERS UP, so were all ecstatic.
The girls received a medal and certificate and were so proud. Their experience was described by them as 'fantastic, sweaty, tiring, amazing, brilliant' and the coach on the way back to school was extremely noisy with lots of singing of 'Sweet Caroline', although we do need to learn more than the first verse for next time !!
Well done girls, you were fabulous
Mrs Turian